Flew out of Chicago early in the morning and went to San Francisco.  I am here for the Angel Capital Association conference.  Last year it was in Austin, Texas.
They host a conference every year.  It's a good chance to network, learn and to try and take best practices back to where you were from.
You also get to accumulate some good data.  Ironically, valuations of companies were steady last year.  I would have suspected higher valuations.  The median is $2.5M.  The median angel round is $600K.  That makes perfect sense to me.
Here are the most active angel groups in the United States.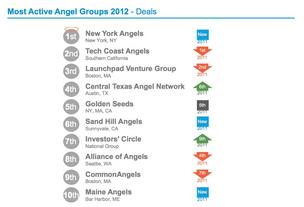 We have some work to do in the midwest.  My group, Hyde Park Angels, has to refocus and get more active.  We aren't the most active group in the midwest.  Wisconsin Investment Partners was more active based on ACA ratings.
I walked around San Francisco today.  It's good to get a different perspective than Chicago.  Because I live in Chicago, I get Chicago-centric.  A myopia.   Earlier this year I was in Austin.  Liked it.
San Francisco is a lot different.  Established city.  I notice, there are a lot more bums walking around here than Chicago.  Must be the weather.  Maybe it's the state benefits.
We had lunch at a nice tavern, Wayfare Tavern.  I got the fried chicken and it was good.  I prefer the fried chicken at Dookey Chase's in New Orleans.  Wayfare does theirs with some lemon.  It's different.
We walked around the rest of the afternoon and went to a place called Skool for dinner.   It was nice.  Not touristy.  A neighborhood joint.  I had some pickled fish and my wife ordered carpaccio.  Both were excellent.
A nice reprieve from the windy and gray days of Chicago.