Yesterday was pretty fun.  Hyde Park Angels managing director Karin O Connor and I were at a lunch for our alma mater, The University of Illinois.  The College of Business puts these things on periodically in Chicago.
Since co-founding HPA in 2007, I have tried to go to as many places as I could to talk about entrepreneurship, and what it means to be an angel investor.  One of the missions of starting this whole thing was to educate people.  The midwest is a very entrepreneurial place.  But, since its inception, it's transformed from a start up venture sort of mindset to a private equity mindset.  Despite being lumped together they are very different.
It's top down and bottom up.  Two days ago I spoke at DePaul University.  A week ago, at a community college event.  In February, I am scheduled to go to the far south side and speak with minority entrepreneurs and judge a venture challenge event.  Entrepreneurship is for everyone.  It's color blind.  It's inclusive.  It doesn't have lines. It doesn't have ceilings.  You go as far as you can go.
There were 120 people at the lunch.  That's awesome.  A few years ago, we wouldn't have been able to do that.  Last April, at the Union League Club, Raman Chadha, Kevin Willer and I spoke to 225 people. By the way, we are happy to do that again for any civic club in Chicago.  It shows that the entrepreneurial ecosystem in the midwest is starting to grow.
Marketers know that there is a product life cycle.  Early adopters use the product right away. They aren't as risk averse.  If we compare the product life cycle in the chart below to the development of the Chicago ecosystem, we are somewhere between the introduction and growth phase.  It's starting to happen here.  People feel it, if they are aware of it.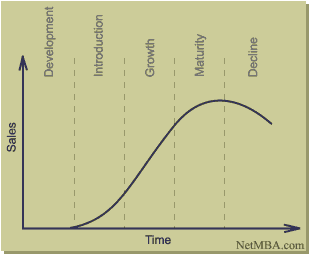 I had some in between meetings, then went to the Chicago Momentum Awards.  Personally, I am not a big awards guy.  There are some great things going on in Chicago, but the old trader in me hates to get too excited.  Traders know a bad trade might be around the corner!  I also don't want anyone to think we need to rest on our laurels.  Chicago isn't that kind of a town.
Braintree won the Momentum Award.  That was pretty cool since my friend Bryan Johnson started the company in 2007.  They are doing awesome things and if you use Paypal for payment processing you might check out what Braintree is doing.
The other two nominees were Trunk Club and Narrative Science. Chicago creates a new start up company every other day.  Interestingly, it's becoming a hub for men's fashion start ups.  Trunk Club, Stock Mfg, and Style Seek are a few.
Even the mayor knows a good thing when he sees it.  He spoke and pledged to try and cut the red tape out of the ecosystem.  I didn't know all the licensing that went into the dog market in Chicago, but it explains why we don't see a lot of entrepreneurs starting dog grooming facilities!
Obviously, the mayor and I are from different sides of the political spectrum.  But, we actually are friendly and served together on the CME Board ($CME).  I am glad he is doing what needs to be done, and will give him the benefit of the doubt when it comes to making Chicago a great place to start a company.
In all the speeches that were given last night, there was one line that I hope everyone heard. Glenn Tilton, Midwest chair of JP Morgan ($JPM) said, "Bureaucracy is the enemy of innovation.".  He said it twice to let it sink into the crowd.   I couldn't agree more.  But, that means dismantling a lot of the overbearing government we have, locally, countywide, statewide, and nationally.  Is either party ready to do that?
Entrepreneurs will create an awesome place to live, if we let them.
Related articles