The Dodd bill is one of the worst financial bills that has ever been presented to Congress. Cliff Asness in the Wall Street calls it the step to "create the largest and most powerful crony system in the world.". You thought Wall Street had the upper hand before, wait until this gets passed. It will only benefit big firms. The medium and small firms will be swallowed up, or go out of business. This includes banks.  Sorry for the long post-but there is no simple way to explain this.
Here are ten things that the Congress can do today to reform the market system, and make it work for everyone, not just the Brioni suits on Wall and Broad Street. They are non-partisan.
1.  End the payment for order flow-Today, when you enter an order into your discount broker, your broker gets a fee from someone to hand off the order to them.  They take that order, show it to everyone of their prop traders and try to trade against it to make money.  If they can't, they check dark pools and ECN's to see if they can risk free arbitrage it there.  Assuming they can't do that-they send it to an exchange to be executed.  High Frequency Trading (HFT) firms figure in payment for order flow into their algorithms.  Even if they don't make money on the trade, the payment might be enough to allow them to break even or earn a small profit.  This provides the wrong incentives to the market.
2. End internalization of order flow-if you enter an order, it should be competitively bid or offered on a regulated exchange. Investment banks should not be able to trade against their customer business.  They also see the orders, tell everyone about them-and then front run the order.  Only if they can't make money off the order does it see the light of day.  Because of the computerization of the business, this only takes seconds to do.
3.  Prohibit unregulated dark pools of liquidity, and ECN's.  Force all stock business, and stock option business to a regulated exchange.  Currently, there are more than enough regulated exchanges to do the business.  However, that doesn't preclude new exchanges from entering to compete.  The public, and all players should be able to compete at each regulated exchange.  This will force the competition to be at the bid/ask spread.  The tightest, deepest bid/ask spread will get the lion's share of the business.  This will also eliminate market fragmentation.  Market fragmentation was the root cause of the flash crash on May 6, 2010.  Dark pools exist to enrich the members that run them.  They are private.  Regulated public exchange markets exist for the benefit of the customer and the broader market.  Push all volume to the broad market where everyone can see it.
4.  Ban dual trading.  Force market participants to choose between filling orders for customers for a fee, or trading and taking risk.  This means an end to the specialist system.  One of the grumbles of investment banks was that specialist treated big orders from their customers poorly-and they created dark pools to evade that-and instead butchered their own customer orders for their own profit.  Many will see this ban as controversial, but we banned dual trading at the CME in financial contracts and it didn't affect liquidity, or the orderly operation of a market. A good broker can get good execution.  They are worth their weight in gold sometimes.  Brokers will charge what the market will bear.  They don't have a monopoly, especially in a highly computerized environment.
5. If a company is going to be a trading firm, it should not be able to access the public markets for its risk capital.  This structure allows firms to take risk with the public's money.  In the old days(pre 2000) when investment banking firms' prop desk assumed too much risk, a partner would voice a word of caution.  The prop desk was playing with partnership money, and partner's had a good reason to keep a watch over it.  Their bonus was on the line.  If you want to trade, you should have to raise money in the private market.  Currently, the system allows investment banks to borrow capital from the Federal Reserve at a lower cost than the rest of the market.  This is a massive advantage, since they need a lower risk return to make money.  Brokers, and banks that didn't engage in risk trading activity would be allowed to access the public market.
6.  Put circuit breakers into the stock market, but they should not be arbitrary.  Use statistical analysis based on historical data to decide where to put circuit breakers in.  Stocks must be allowed to drop in value.  But there are times that markets do not act rationally.  Circuit breakers can help return order to a market.  If the above changes were enacted, I doubt very seriously if circuit breakers would ever be deployed.
7.  Institute an uptick rule. If you want to short stock, you must take risk and do it on an uptick. Stock markets are there to raise capital for building the economy.  The risk should be on the person that bets against the stock, not on the company and its shareholders.  The uptick rule will restore the correct risk allocation to the market.
8.  Shorting is healthy for a market, but the market shouldn't be short more shares than a company has outstanding.  Rules have been bent with this regard in the last decade.  Design a system to check to certify that there is enough stock out there to be borrowed.  If there isn't, then you can't short. Firms would have to go to the option market and either short calls, or buy puts.
9.  Allow single stock futures(SSF's) to be traded, and futures on ETF's to be traded.  Currently, SSF's are taxed incorrectly, and margined incorrectly because of lobbying by SEC firms, and SEC regulation.  This market can take a lot of selling pressure off the cash market.  It would add liquidity to the marketplace since firms would have an extra place to arbitrage and spread positions.  They should be taxed as futures, and margined as futures.  This will allow for more efficient uses of capital by companies, trading firms, and banks.  SSF's will not hurt the options market-they will enhance it.  No different than the equity futures contracts that are already in place.  In every market melt down since 1987, futures performed brilliantly to insulate the world from risk.  It was the cash side of the business that had problems.
10.  Within exchanges themselves:  They must beef up their self regulatory staff to ferret out bad seeds and nefarious trading.  Price reporting on all trades, including block trades should be instantaneous.  Cash equity and cash option positions need to be cleared on the day that they traded, not the +3 days that is today's standard. Current price reporting on the SEC side of the business can take 15 seconds or longer.  Block trades on the futures side of the business sometimes are not reported for minutes.  Markets should be as transparent as possible.  An electronic environment ought to make them more transparent-but what we have seen is less transparency for the general public.  Exchanges clearing houses should be allowed to set margin independently.  But, they should be held accountable by the SEC or CFTC for their actions.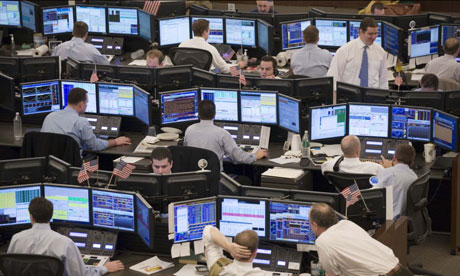 These suggestions ignore the OTC market-and that market should not be ignored.  It is safe to say that the current reforms that are proposed for the OTC market will do nothing to engender more safety to the American taxpayer.  The OTC market is not as quick and dirty to regulate as the stock or futures market.  It is a different animal, and requires a different hand and perspective with regard to meaningful regulation.
These reforms would result in a highly competitive transparent marketplace. The market would work more efficiently for everyone. Reforms like these would restore public trust in the market place. Main Street America would become bullish on America.